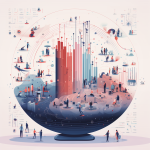 Data Science: A Catalyst for Advancing Human-Centric Solutions
October 15, 2023
In recent years, artificial intelligence (AI) has emerged not just as a technological innovation, but as a transformative force capable of reshaping industries, societies, and individual lives. While the advances in AI have spurred unprecedented growth and convenience, it is paramount that we harness its capabilities for social good and the betterment of all.
Why Prioritize Social Good in AI?
Upholding Ethical Values: Ensuring that AI is used for positive change means actively upholding the values of fairness, justice, and equality. As AI becomes increasingly integrated into our daily lives, it becomes a reflection of our collective morals and priorities.
Addressing Global Challenges: From climate change to healthcare disparities, AI offers innovative solutions to some of the most pressing challenges of our time. For example, predictive modeling can forecast natural disasters, while AI-driven diagnostics can increase healthcare accessibility in underserved regions.
Reducing Inequalities: There's a risk that the benefits of AI will be concentrated among a privileged few, further exacerbating social and economic disparities. Committing to social good ensures that AI technologies are inclusive and work towards reducing, not enhancing, inequalities.
Harnessing AI for All Good Purposes
Beyond the broader notion of social good, it is essential to ensure that AI is used for the benefit of all sectors of society. Here's how:
Promote Education and Awareness: By educating everyone—from young students to policymakers—about the capabilities and implications of AI, we can foster an informed public that can advocate for beneficial AI uses.
Collaborative Efforts: Combining the expertise of tech professionals with those in social sectors can lead to AI solutions that are both cutting-edge and grounded in real-world needs.
Encourage Responsible Innovation: Companies and developers should be incentivized to create AI solutions that prioritize societal benefit over mere profit.
Regular Oversight and Regulation: As with any powerful tool, AI needs checks and balances. Regular oversight, transparent algorithms, and clear ethical guidelines can ensure AI is employed responsibly.
Conclusion
As we stand at the cusp of an AI-driven era, we have a unique opportunity—and responsibility—to ensure that the technology we create is aligned with our best ideals. AI for social good isn't just a lofty aspiration; it's a necessary path. By working together, we can ensure that the immense potential of AI is harnessed not just for economic growth or convenience, but for the enduring betterment of humanity.