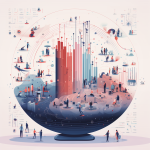 Data Science: A Catalyst for Advancing Human-Centric Solutions
October 15, 2023
Innovation has always been a beacon of progress, pushing boundaries and redefining the realms of possibility. Today, in the age of artificial intelligence (AI), innovation isn't merely a product of isolated genius. Instead, it emerges from the confluence of diverse disciplines and industries, intertwining their strengths to address pressing societal challenges.
Multidisciplinarity: The New Frontier of Innovation
Cross-Pollination of Ideas: When sectors like healthcare, finance, arts, and environmental science converge, they bring unique perspectives. This fusion results in out-of-the-box solutions, as AI serves as a medium to translate these interdisciplinary ideas into actionable insights.
Enriched Problem-Solving: Tackling complex societal issues requires a multifaceted approach. Combining the analytical prowess of data science with the human-centric design principles of social sciences, for example, can lead to more holistic and effective solutions.
Bridging Knowledge Gaps: Multidisciplinary collaboration facilitated by AI ensures that no single industry remains in a silo. It promotes shared learning, broadening the horizons of each involved sector.
Harnessing AI to Connect Industries for Social Good
Unified Platforms: AI can integrate data and methodologies from various industries, creating platforms where professionals can collaboratively ideate and innovate for the greater good.
Predictive Analysis Across Sectors: Whether it's forecasting climate change impacts using environmental and socio-economic data or predicting public health challenges by integrating medical and urban planning data, AI's predictive capabilities can be a game-changer.
Inclusive and Fair Solutions: By drawing on insights from multiple disciplines, AI-driven solutions can be more inclusive, catering to the diverse needs of global populations.
Democratizing Knowledge Access: AI can curate and disseminate interdisciplinary knowledge, ensuring that solutions for societal challenges are not just top-down but also crowd-sourced from grassroots levels.
Conclusion
The symbiosis between multidisciplinary industries and AI heralds a new era of innovation—one where the lines between sectors blur, giving rise to solutions that are greater than the sum of their parts. As we navigate the challenges of the 21st century, this collective approach to innovation, anchored in AI and a shared commitment to social good, will undoubtedly light the path forward. Through collaborative efforts and the leveraging of AI, we can ensure a future where progress benefits all.